A house shifting process elicits a lot of worry – too many things to do. One of the most tedious and worrisome of these is wrapping up and packing of all your stuff. You need to pack your property in such a way that it doesn't get damaged during transport. Also, different kinds of objects require different materials and packaging methods to keep them safe.
Here's a list of these important moving and packing materials:
1) Corrugated Cardboard Boxes
No home-moving process is complete without the most versatile packing material – corrugated cardboard boxes.
These come in a variety of shapes and sizes. The cardboard is a good protective material. It doesn't damage the surface of your belongings. The boxes can be folded to save space when not in use. They are by far, the most practical packing material. They are also quite cheap and affordable. Sometimes, you can get such cardboard cartons for free by taking them from stores that are disposing them off after emptying the supply.
2) Specialty boxes
These are special boxes dedicated to a particular kind of item – wardrobe boxes, dish boxes, artwork boxes, mirror boxes, etc.
These are usually made from strong cardboard or some kinds of plastic. These are shaped in ways to carry specific delicate items without damaging them.
3) Packing paper
Packing paper is usually the first layer of protection in the packing of delicate items. Usually, items made from glass, porcelain, ceramic and other brittle materials are wrapped in packing paper individually first before being packed into larger cartons or suitcases.
Packing paper is cheap, and is available as clean white or brown packing paper. It does not leave marks or stains on the surfaces of objects.
It can also be crumpled up and packed into empty spaces while packing to be used as padding.
4) Bubble wrap
Bubble wrap is your best friend while packing. With enough layers, this wrapping material can protect virtually anything, even the most damage-prone things. And it does so, without the fear and risk of scratch marks or stains on the object.
There are different grades of bubble wrap available in the market with different sizes of bubbles and thickness of the sheets.
5) Plastic wrap
This is the stretchy plastic wrap that we are all familiar with. Also known as "stretch wrap" or "cling wrap", this packing material is highly stretchable.
It is used to wrap around perishables such as food and drinks, and also keeps the containers tightly closed so that they don't spill. It is used to wrap around furniture with drawers and doors to it so that they do not open.
Plastic wrap also acts in an air-tight manner to keep moisture, dirt and dust outside. Hence, it is very useful in wrapping up wooden furniture.
6) Packing tape
Often an overlooked packing item, packing tape also serves an important purpose. Closing up boxes that have been packed is only one of its uses. The main use of packing tape is as a reinforcing agent. Layers of packing tape are added below and around boxes to make them sturdier. This makes the difference between successful packing and packing failure.
Don't cheap out on the kind of tape you use to shut and reinforce your boxes and other packing. Lower quality tapes have low strength and low adhesiveness. They come off easily and expose the things inside the box to moisture, dirt and dust. Spending on better quality tape will save you from a lot of unnecessary trouble.
7) A form of labeling
La belling your boxes is a very under-appreciated activity. It seems unnecessary at the point of moving out. But the moment you reach your new home and need your toothbrush, soap and a fresh set of clothes to wash up and start unpacking, you will wish you'd labelled the boxes so you would know exactly where to look for to find these things immediately. Having labelled boxes saves you a lot of time and unnecessary effort input while unpacking.
There are many different ways of labeling your cartons and luggage. There are index-based labeling stickers available in the market. You can use plain white paper sheets and tape them onto the boxes and write out the contents of the boxes on the paper. Or you could use black marker pens to write directly on the boxes.
These are the simple essential materials required for packing your belongings when relocating homes.
There are many different types of packing materials and casings available online and in stores that are dedicated to various types of objects. But this list of 7 packing materials suffices as the basic for all kinds of furniture and objects.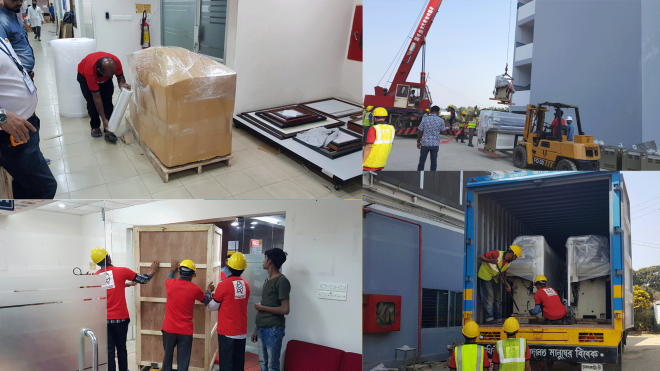 Different types of packing materials and their use
Packing boxes
Packing boxes will come to your mind the moment you start thinking about moving locally. They are beyond useful because they are excellent for moving your belongings. Cardboard boxes are sturdy enough to put your
small household appliances
books
kitchenware
delicate objects
kids' toys
Without rupturing.  If they do rupture, it will cause nasty moving injuries. Consequently, they are the cornerstone of moving safety, aren't they? Besides, you can put a lot of different types of belongings there. By and large, they will remain intact when transported. Just make sure to insert enough packing peanuts. Why? Well, to protect them in case of a collision or a minor bump in the road.
Another advantage of packing boxes is your children can have so much fun. The kids can draw on them. Moreover, they can use them as their own fortress or a puppy house.
Bubble wrap
Bubble wrap
Bubble wrap is one of the most useful types of packing materials. People use it as a protective shield for their delicate items. Namely, smaller pieces of electronics, glassware, crystal, fine art items, etc. Bubble wrap provides greater protection for items easy to break, scratch or get otherwise damaged. It's a soft layer ensuring your belongings remain intact.
Additionally, they can be interesting for kids because of the popping sound they make when pressure is applied. Many kids find that amusing and it captures their attention. So, you can use bubble wrap to entertain the kiddos while you're checking professional moving companies online. You can never be too careful, can you? Needless to say, you have to know who you're doing business with to avoid potential problems. Have you heard of moving hoax? Bubble wrap is one of many types of packing materials you can benefit from using
Moving blankets
Furniture relocating is one of the hardest moving tasks, isn't it? Pieces of furniture require special care. It means you have to handle them with the utmost caution. To begin with, you need to disassemble them properly.
Next, you need to protect them adequately when being transported. Using moving blankets is your best bet. They are long and thick to cover your bunk bed frames or the wardrobe without its parts, of course. Similarly, use them to relocate the pool table. By the same token, you can use them to cover your chairs, desks, and tables. The stakes are higher if you're in possession of invaluable antique pieces. Most of the time, to have them packed is one of the professional packing services.
The only catch is to opt for the waterproof ones in case of rain.
Styrofoam
Styrofoam is a bit underestimated when it comes to different types of packing materials. It's because the bubble wrap has been used more frequently. However, Styrofoam can do the trick when you need to move larger household appliances. Think in terms of a fridge, chest freezer, vacuum cleaner, TV, and cooker. Actually, there is no better way to move a piano than using Styrofoam for its integral part. Moving these using plastics or bubble wrap is inconvenient to say at least.
The best case scenario is you've kept the original packaging of these items. Odds are they contain the Styrofoam that fits the shape of these belongings perfectly because they were designed to match them. Go the extra mile and cover the appliances you had previously put in their Styrofoam frames with a moving blanket. They're now good to go. Styrofoam is one of the most useful types of packing materials when relocating
Plastic bins
Plastic bins can also come in handy when relocating. They are light, useful and affordable. One of their most important characteristics is they are transparent so you can see what's inside. This is immensely helpful when unpacking. This quality saves you time and nerves. You can put items such as summer clothes, underwear, toiletries inside. They come in handy if you need to keep them in a garage or storage. The thing is the moisture, heat, and bugs can't harm them. As a consequence, your belongings are safe for as long as you want.
The disadvantage of plastic bins is you can't recycle them without going through a great length. Correspondingly, if you want to carry out an eco-friendly move, plastic bins are not the best solution there is. It's better to opt for the containers which you can recycle.
Other Services: Office Shifting, House Shifting Service, Home Shifting, Loading and unloading services,